What Trees & Shrubs Give Your Yard The Best Look And Feel
The professional team at Faltz Nursery has a strong belief that every tree and shrub sold is one of the best available in Alaska.
Trees and shrubs can transform the average lawn if positioned in the correct place and accompanied with complimentary things like flowers and small perennials. Faltz is the best landscape company in Anchorage, Alaska.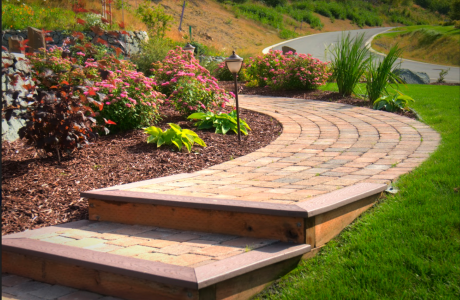 Faltz Landscaping and Nursery has been the premier option for residents of Alaska and here are some of our recommendations for the trees and shrubs with the best look and feel.
Evergreen Shrubs
Evergreen shrubs delight gardeners with their unusual textures and year round color.
Birds Nest Spruce
Named for its 'nest' appearance, the Birds Nest spruce grows slowly into a mound with a dip in the center. In the spring, it's bright green needles are an attractive addition to any yard.
Formanek Norway Spruce
This low growing variety of Norway Spruce is revered for its weeping, and creeping habit. If left unstaked, this evergreen will fall gracefully to the ground and spread outward like a mat.
Deciduous Shrubs
Amur Flame Maple
This deciduous shrub is a showstopper in the fall garden, it's one of the first to change and turns a beautiful orange-red. It grows between 10 to 15 feet tall, has an 8 to 10 foot spread and does best in full sun to partial shade.
Don't be deterred by its mature height, this hardy shrub can be kept small with proper pruning.
Weeping Pea Shrub
This unusual shrub is indeed a member of the pea family and in mid-spring has showy yellow flowers on pendulous branches. The flowers are followed by yellow pods that hold late into the season.
The weeping pea shrub is an excellent center-piece for the garden and, once established, can stand some drought and even a bit of neglect.
Evergreen Trees
Weeping Norway Spruce
For something completely different when it comes to landscaping design, consider the weeping Norway spruce. Its weeping habit and bright needles make it the focal point of any garden.
It does best in hardiness zones 2 to 8 in full sun or part shade. Another noteworthy weeping tree is its cousin, the weeping blue spruce.
Cork Bark Fir
This beautiful tree, which can grow to 40 feet tall and 30 feet wide, is grown for the texture of its bark, which does resemble cork, its pyramidal habit and its compact, blue-green needles. Grow in full sun to partial shade in hardiness zones 4 to 7.
Deciduous Trees

Crabapples
These showy trees are a beacon of spring here in Alaska. This versatile tree comes in all shapes, sizes and colors. With bright blossoms followed by small crabapples, you can't go wrong with one of these in your yard.
Paper Birch
This beautiful tree is a staple in our northern environment. With its bright white bark, the Paper birch makes a fantastic addition to the yard. This tree grows as tall as 75 feet in full sun to partial shade.
Be sure to check out the Weeping White Birch or Multi Stem Birch for a unique take on one of Alaska's favorite trees.
If you would like to learn more about trees and shrubs and what the Faltz Landscaping team has give us a call or visit us today.