How Retaining Walls Can Protect Your Home In Anchorage AK
When it comes to retaining wall protection and retaining wall companies in Anchorage, Alaska, Faltz Landscaping is one of the premier landscape companies in the area that specializes in residential and commercial retaining wall projects. If you're a homeowner, and you're looking for the ultimate protection for your home, there is a variety of retaining wall applications and hot garden trends that you can incorporate into your landscape design for maximum protection and pleasing aesthetics.

What Are Retaining Walls?

Retaining walls can be constructed with a variety of materials like steel, stones, pavers, blocks, wood, reinforced soil, and concrete. They also come in a wide range of colors and textures that make your property unique, and they provide superior protection. They can also help to retain soil that's in danger of collapse and provide a more natural shape to your property.

Basic Retaining Wall Design

Retaining wall type and design selection can be impacted by several factors. There are a lot of homeowners who don't realize the scale of a retaining wall project. It's not as easy as performing some minor earthwork and starting construction an hour later. There are a lot of variables that landscape companies must consider before construction commences for a safe and solid installation. The main factors that most homeowners face include:
Required wall height
Ground water conditions
Soil characteristics
Length of construction
Building permits
Total cost
Some other factors might include material availability, site accessibility, building codes, aesthetics, and unexpected expenses for ground utilities that may be in the way. You may have to pay licensed technicians to have any utilities rerouted or your retaining wall may need to be moved. It's always best to get together with your landscaping contractor and discuss all of these factors before you start.

Retaining Wall Ideas

It's important to remember, retaining walls are load-bearing structures first, and cosmetic ground-scapes second. Additionally, retaining walls over four-feet are required to be approved by a licensed and qualified engineer. They also are subject to meeting local building codes, and permits should be acquired before construction begins.

This is where retaining wall companies like Faltz Landscaping can help you by assisting with the building permits. They can also inform you of the proper procedures for backfill compaction and soil preparation as mandated by local building codes in Anchorage.

Here are five garden trends and retaining wall ideas to consider that will protect your home and add cosmetic property value.
Poured Low Retaining Wall With Embeds
These great retaining walls have a low profile, and they can be used around swimming pools, patios, and various landscaping. Raw materials like stone, rocks, and seashells can be embedded to provide a free-form organic design. Sections of the wall can be polished and protruding stones can be left natural for a truly unique look.
Additionally, the top of the wall can also have a ribbon of glass aggregates installed, which makes a striking statement.
Hillside Terracing With Concrete Retaining Walls
This is one of the hottest ground-scaping trends in Anchorage, especially for those who have a natural slope in their backyard. Pleasing wall curves with multi level stairs can turn an ordinary slope into a work of ground-scaping art. Flowerbeds and pockets can be installed to provide a variety of different gardens, and wrought iron handrails can be installed on top of the walls. The walls can also be textured and painted to match existing exteriors.
Layered Concrete Retaining Wall
This is a unique retaining wall that has a rustic and medieval appearance. To get the layered look, a lighter shade of gray concrete is poured into the forms to the desired height, then it's sprinkled with rocks, stones, and other natural debris. Then a layer of darker concrete is poured on top until the forms are filled to the top. The alternating process is repeated until the desired height of the wall is reached.
Steel Retaining Walls
Galvanized and corrugated steel retaining walls can be used for a variety of applications like gardens, privacy panels, livestock protection, landscape dividers, and soil retainers. Corrugated steel is lightweight, strong, and rustproof, and it's one of the most popular garden trends being incorporated into landscapes and homes throughout Alaska. It can be framed with different construction materials like stained timber that provides an elegant look.

Additionally, it's very durable and offers lots of staying power that can be recycled at the end of its lifecycle, making it a more sustainable building material.
Stone Crete Retaining Walls
Stone Crete retaining walls are poured-in-place concrete walls that are decorative and mirror the look of masonry or stonework. They create a staggered and deep relief stone retaining wall that's available in a variety of colors and textures. They can be utilized for stairway walls, subdivision entry walls, sound barriers or wherever a gorgeous deep relief stone retaining wall is desired. This technique minimizes the cost of masonry work, and it provides the aesthetic and structural integrity of the concrete.
The construction method for Stone Crete walls involves the installation of the forms, placing form liners of your desired texture inside the forms, pouring plain or colored concrete, and removing the forms. Additionally, Stone Crete can be stained a variety of colors to look like real masonry or stone.
Contacting a Professional Retaining Wall Contractor
Not only is it possible to have an aesthetically pleasing retaining wall, but it's also possible to have maximum retaining wall protection at the same time. If you want the latest in retaining wall design for home protection with a variety of applications, consider contacting Faltz Landscaping for professional retaining wall installations that protect your home and transform your landscape.





Best Landscape Design Ideas for 2019
Building a spot to sit outside and enjoy the fresh air will increase your joy in your home. Working with a quality landscaping company can help you plan just the right features for your space.
Structures
Even the smallest garden can benefit from a structure, such as a pergola or screen wall. Faltz Landscaping can help you find just the spot for a physical feature to provide privacy and a physical anchor around which to build your 2019 landscape ideas.
Make Space for You
When reviewing garden trends, it can be tempting to create a spot for entertaining. However, your summer evenings will often be spent in the company of members of your household or just a few friends.
Why not create a space for just a few people?
This may include a small, simple seating area around a fire or water feature. Local landscape companies can help you determine how to get power, gas and water to this structure. Once you've decided where this feature will fit, consider adding a spot to cook or serve food.
Comfort
Depending on where you live, you'll likely have environmental factors that will limit your enjoyment of the outdoors. Maybe you're dealing with mosquitoes, have chilly evenings, or need to successfully beat the heat to stay outside. Faltz Landscaping is here to help you overcome these challenges.
Perhaps you can add in plants that help cut down on pesky mosquitoes, or include a misting tool to cool off your patio space. Of course, your landscape ideas will include butterfly and bee-friendly plantings away from your seating area to draw in both friendly and necessary insects.
Your local landscape companies can provide guidance in choosing the right plants for your area.
Pleasure
Of all the garden trends you can put to work for your space, the addition of weather resistant speakers is one of the best. The chance to sit outdoors and enjoy some music on a summer evening is a source of tremendous relaxation for many of us.
Privacy
Depending on building restrictions, you may be limited as to the number and size of physical structures you can add. However, plants offer excellent screening opportunities, and the latest garden trends of 2019 include using plants as a screening tool.
Final Thoughts
Putting together a coordinated outdoor space can be confusing, but there are knowledgeable landscape companies ready to help you build the perfect spot. Save yourself time and energy by contacting Faltz Landscaping for a review of your current space and your options. Enjoy your summer!
Retaining Wall Ideas That Last
No matter how big or small, there are several things to keep in mind when you decide to have a retaining wall installed on your property. Everything from materials, designs, and current garden trends, as well as vetting the various retaining wall companies comes in to play at the beginning of a project of this complexity. Most, if not all, retaining wall ideas are large investments, and as a consumer you deserve for it to pay off. With that in mind, here are some tips to follow so that your wall can look great and stand the test of time.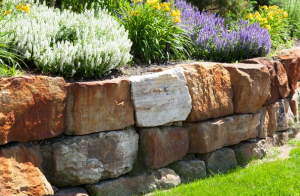 1. Design
Retaining walls don't have to be straight lines. Use creative design elements, such as curves, to add character to the wall. Look at how it will match your property. Companies such as Faltz Landscaping generally offer pictures of projects on their website to showcase designs.
2. Function

Consider your lifestyle and the space around the wall. Design elements such as shelving, colors, patterns, and stone size can make for a decorative display worthy of an outdoor family area or barbecue pit to entertain guests. Both of these have become fast growing garden trends.
3. Height
This is where you'll most likely need to get help from one of many retaining wall contractors. For instance, Faltz Landscaping continues to have many ongoing projects in this particular outdoor area. A few things have to be considered structurally when building a long lasting wall. First and foremost is height. Depending on building codes, you can install a wall yourself if it is less than four feet tall. Anything over four feet tall should be constructed by retaining wall contractors.
4. Drainage
Drainage is a main concern in any structure. Water is the main enemy of stone, and seeing as most retaining wall ideas incorporate stone, the water has to have somewhere to drain away from the wall. The base is the key support for the entire wall, and thus deserves a good amount of time dedicated to it. Stones can be either natural or manufactured, manufactured being the easiest to work with. Retaining wall companies tend to work with both, depending on customer preference.
5. Backfilling & Leveling
Two more key points for the longevity of the wall are backfilling and leveling. Backfilling involves adding successive layers of gravel as a support barrier behind the retaining wall. After each layer is added it is tamped to reduce settling over time. Checking for level should occur after each layer of stone is added, regardless of whether natural or manufactured stone is used.
Landscape Ideas In Anchorage AK
The best garden trends and landscape ideas of 2019 will turn your garden area into a paradise, helping you to do more with less and create tranquil spaces. Add additions such as simple ornamental structures to your yard, reduce maintenance, and more. Finding the perfect landscape designer to assist you with landscape design, maintenance, and installation is a must. Starting with a few great ideas will get you on the path to achieving all your gardening goals.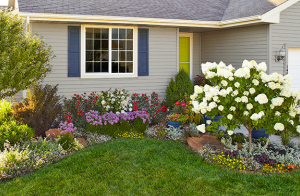 Low Maintenance Gardening
Reduce the amount of maintenance your garden needs, and increase the time you get to spend enjoying it. Many landscaping companies offer services that will help you find solutions for creating a beautiful, yet low-maintenance garden. Faltz Landscaping offers a variety of services from design to maintenance, and they can help you achieve the look you want while helping you reduce the amount of maintenance your garden will need.
Create Tranquil Spaces
One of the most exciting garden trends is creating tranquil spaces for relaxation. Whether you want to a cozy nook filled with beautiful flowers or a private place where the focal point is a small, ornamental structure, Faltz Landscaping can help you create the quiet, peaceful space you want.
Consider Your Space
Determine how much space you have or want to work with. Looking at 2019 landscape ideas can assist you with selecting the best garden trends for every season this year, including how to make the most of your space. Hiring a professional landscaping company will benefit you greatly, helping you maximize your garden's potential. Landscape companies can help you determine what plants and flowers would work best in your garden, as well as provide beneficial tips for lowering maintenance and increasing the use of your garden space.
What to Add
There are many landscaping options that you can add to beautify the look of your garden, such as paved stone and pathways, painted fences, and potted plants. To assist you with planning and ideas for your landscape or garden, landscape companies help simplify complex projects and reduce the amount of time and energy necessary to build them.
Landscape companies provide you with everything you need to make informed decisions when it comes to choosing the areas you wish to fill and include, what types of plants and flowers will work best for your garden. Landscape ideas in 2019 offer you many wonderful options to choose from when designing the garden of your dreams. No matter how big or small the project or space you wish to fill, Faltz Landscaping can meet all your gardening and landscaping needs.
Protecting Your Trees and Shrubs from Old Man Winter

The last thing you want to do is invest money into your exterior landscaping by planting a dwarf weeping Norway spruce and find out that cold temperatures destroyed it come spring. It's worth taking the time to protect your trees and shrubs during the winter months. If time is a precious commodity, then contact professional landscape companies Anchorage AK area. Here's a few winterization tips for the do-it-yourselfers out there.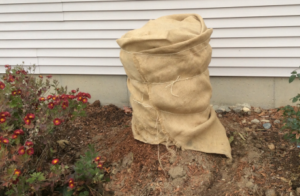 1. Make Sure Your Plants are Healthy

Protecting trees from frost can be as simple as making sure that they're healthy. If a tree or a shrub has struggled to survive the general growing season, then they'll be heading into the winter months in a vulnerable state.

Keep trees and shrubs healthy by pruning at the right times. For instance, don't prune plants after the middle of summer. Trimming stimulates delicate new growth while putting off dormancy. Along with this, you should stop fertilizing plants like your weeping bush with yellow flowers about six weeks before the year's first frost. This winterization tip will help your plants harden off in a way that's safe for them.

Water your plants thoroughly during the fall months until the ground freezes, making sure that the water seeps about 12 inches to 18 inches into the ground. This is the root zone.

2. Wrap Them Up

While a mature dwarf weeping Norway spruce is likely to withstand the winter temperatures intact, consider insulating your younger trees and shrubs with a 3-inch to 4-inch layer of mulch after the ground freezes. This tip works to insulate the soil, helping it remain frozen and preventing heaving. Be sure to keep the mulch several inches away from tree trunks and the base of your shrubs to prevent rot and to dissuade rodents from chewing on them.

Wrap your trees and shrubs up too. The winds in Alaska can be damaging to these plants. You can either put up a windbreak or wrap them with burlap or a shrub wrap. This will also protect your trees and shrubs from the harsh winter sun.

Rodents like rabbits, deer and mice get hungry in the winter, and your weeping bush with yellow flowers may look like a tasty treat. Add additional protection by placing tree guards in front of them.

3. Keep an Eye on the Snow

When your area experiences a big snowfall and the branches of your trees are starting to bend under the weight, it's a good idea to remove some of the snow, but be sure to remove it gently. If Anchorage winds up dealing with an ice storm, leave your trees alone. Attempting to remove ice will likely harm your trees more than it will help them.

Landscape Companies Anchorage AK

In Alaska, protecting trees from frost can be a challenging endeavor. If you have any doubts about your green thumb, turn to landscape companies Anchorage AK. These experts will not only know how to keep your trees and shrubs around year after year, they're also sure to have them looking their best when next spring and summer arrive.



How To Find The Right Leaf Removal Company in Anchorage, Alaska

Autumn is a favorite season for many people because it means cooling temperatures and stunning colors as trees and other foliage change colors. But for homeowners in Anchorage, Alaska, autumn also means a lot of yard work to get ready for the cold winter months. One of the bigger jobs you'll face, especially if you have a lot of trees on your property is leaf removal.

Leaf removal in Anchorage, AK is generally not a fun task, but it is a necessary one. Grass growth starts to slow down as the temperatures get cooler. However, photosynthesis, the process where grass turns light into energy continues. This process becomes very important during the fall months because the grass needs this energy to survive the winter. This is a key to having a healthy lawn when the weather warms up in the spring and the grass starts growing again.

What does all this have to do with leaf removal? If your yard is covered with a layer of leaves, the sunlight won't get to the grass which will make photosynthesis almost impossible.

DIY Leaf Removal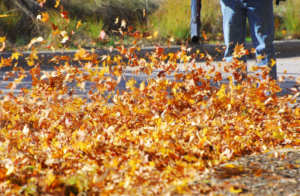 Here are three leaf removal tips that will help you clear your lawn of leaves so you can keep your grass healthy.

1. Don't wait for all the leaves to drop to start raking. Leaves can get heavy fast. Rake at regular intervals until all the leaves have fallen to avoid injury, nasty hand blisters, and burnout.

2. Get a leaf blower. A good leaf blower can be a little pricey up front, but they're worth every penny when it's time to clear your lawn. Leaf blowers come in either electric or gas powered. Whatever one you choose, just make sure it has enough power to get the job done.

3. Consider mulching your leaves in the early weeks of autumn. Most people mow their lawns well into fall, meaning you can just mulch the leaves as you mow. This can actually be good for the grass because it puts more nutrients into the soil, acting like a fertilizer.

The above leaf removal tips are just the basics. But if you're looking for the easiest way to get rid of those leaves, consider hiring researching leaf removal companies that will do all the hard work for you. There are plenty of companies that specialize in leaf removal anchorage alaska to help you out.

Selecting A Leaf Removal Company In Anchorage, AK

1. How much do they cost? This is a big one and comes down to how much your time is worth. You're paying them to do a job that you don't want to do. Don't go for the cheapest company, as they might not be reliable. Try to find a company that gives you a middle-of-the-road price.

2. Frequency. How often are they going to come to your house? If they come only at the end of autumn when you have two feet of leaves covering your grass, then you're going to have problems. Depending on how many trees on your property will often dictate how often the company needs to come out.

3. Ask for references. It's always a good idea to ask for references when you're having people doing any kind of work on your property. Ask people if the company does a good job. Are they safe? Do they deliver what they promise?

One of the biggest benefits of hiring a company for leaf removal anchorage alaska is they often will have equipment that can get the job done quickly and efficiently. And you'll be happy to sit back and enjoy a clean yard without having to break a sweat.



Landscape Design Ideas That Make Any Alaskan Home Beautiful
Before you consider any landscape design ideas in Anchorage, AK, you need to take a look at the entire area of your home or business. Primarily, you should take into consideration what is manageable for hardscaping.
When it comes to hardscaping, there are numerous landscape ideas that are very appealing and can make all most any Alaskan home beautiful. In fact, according to Wikipedia, hardscaping is in reference to hard landscape materials used for structures that are integrated into a landscape.
Some of these design ideas can include walkways, paved areas, retaining walls, stairs, patios, sleeper walls, fire pits and any other improvement that utilizes hard materials like stone, wood, concrete and so on.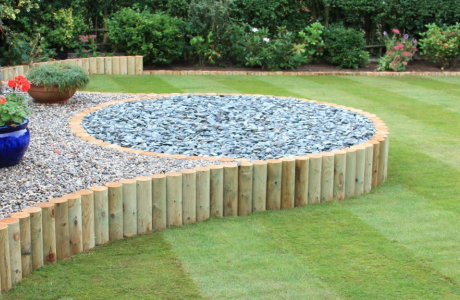 1. Have a Focal Point
Some of the best design ideas include a focal point. The focal point is intended to capture your attention and make the eyes travel towards a destination that features a certain visual element. For instance, like a Japanese maple with a unique garden décor.
For optimum results, a focal point should contain a hardscape to add more than one element and texture like a stunning brick wall or stone fire pit.
2. Selecting Stable Lawn Design Elements
More often than not an inexperienced landscaper will produce a disaster waiting to happen that does not look very appealing. For instance, placing a boulder just anywhere is not recommended, the large rock requires stability and an area big enough to hold it.
Plopping a large boulder into the ground inappropriately looks unnatural. Moreover, landscape ideas need to be flowing with the elements that are added. For example, hardscape elements need to evolve graciously and blend into the rest of your landscape.
3. Hold On To The Greenery
Hardscapes are amazing elements that give your landscape its foundation for creativity. Keep in mind that you need to add the hardscape before you beautify your home with the softscape (flowers, shrubs and trees).
Once you decide on the basic structures to add, you can begin planning the garden. For regions in Alaska you want to keep in mind that the growing season is short. In result, you need plants that do well in colder climates.
It is also a good idea to reference the hardiness zones for areas in Alaska. Once you know the hardiness zone you live in, it will be easier to choose the right plants for your region. In addition, a professional landscaper in your area will know the hardiest plants for your landscape.
4. Select Proper Materials That Fit Your Style
Hardscapes are quite versatile and can be simple or complex. However, it is best that you select landscape design ideas that fit your individuality.
For example, your style may include a romantic waterfall with cascading plants, a simple flower garden against a rock wall or a stone walkway lined with fragrant lavender.
Once you decide on a style, selecting essential soft and hard elements are a breeze. If you need more landscape ideas, Country Living has some wonderful creative garden designs that integrate both softscapes and hardscapes beautifully.
5. Consider Draining Issues
When adding a hardscape it is important that you consider any drainage requirements. As well, there can also be environmental requirements that need to be taken into consideration. If you are unsure of what environmental or drainage entail, it is best to contact a landscape design specialist so that your landscape is done properly.
As well, ensuring that the landscape is done right the first time will save you time, money and unnecessary frustration.
Sometimes Simple Is The Best
Rendering to the Movoto Foundation, sometimes simple is the best. In truth, the most impressive landscape is generally not super extravagant at all. In contrast, a beautiful landscape does require a bit of work and some planning. Besides, with a minimalist look you can always add to it later if desired.
Planting Evergreen Trees In Anchorage Alaska
Evergreen trees are a great addition to landscaping. They offer color and cover year-round. Planting trees or shrubs of the evergreen variety is a little different than planting most varieties of trees.
Anything bigger than a seedling is generally only available as a container-grown plant or balled and wrapped in burlap versus more normal bare root stock.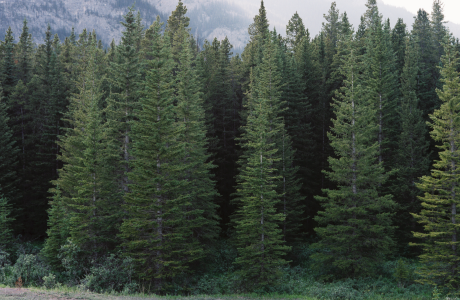 This article will help you with selecting the best trees, how to plant trees, and how to deal with soil that is clay. Call Faltz Landscaping to learn more about evergreen trees in Anchorage, Alaska.
When selecting the best trees, it is important to first decide on the purpose for your evergreen trees. Different types of evergreens reach different mature sizes and can crowd other plants or areas such as sidewalks if they are not carefully planned.
Decide what site you want to plant you plan on planting trees in, and then determine how large a tree will fit in that area.
When going to a nursery to look at possible evergreen trees, look over the tree you like and make sure that there is no browning, yellowing, or graying of the foliage. Off-color foliage can indicate that the tree is in distress or is diseased.
Look at the trunk of the tree and see if it has been damaged or if you see sap oozing. Look over the tree and ensure it has a good branch structure and that there is one central leader. Also, avoid purchasing trees that have been sheared. They can take years to regain their appropriate shape if you do not keep up on shearing.
Now it is time to talk about how to plant trees of the evergreen variety. The time to plant evergreen trees is while the soil will be warm long enough for the tree to establish itself. Spring and summer is the ideal time to plant evergreen trees, but you can still plant in early fall.
Evergreen trees that are planted too late in the fall can suffer from dehydration, causing the foliage to brown. Dig a hole twice the size of the root system, and then fill it with water. Put the tree in and add dirt back in.
Another Aspect of Growing Trees Is The Soil
Clay soil is not a good environment for growing trees such as evergreens. To improve your clay soil, adding organic material and fertilizer can create an environment that will be good for evergreen trees.
Organic soil amendments such as leaf mold and well-rotted manure are both excellent additions to amend clay soil. Place the three to four inches of your chosen organic soil amendment on top of the clay soil, and then work it into the clay soil about four to six inches down.
Several treatments such as this, in addition to using fertilizer, can turn your clay soil area into an area perfect for your evergreen trees to be planted.
What Trees & Shrubs Give Your Yard The Best Look And Feel
The professional team at Faltz Nursery has a strong belief that every tree and shrub sold is one of the best available in Alaska.
Trees and shrubs can transform the average lawn if positioned in the correct place and accompanied with complimentary things like flowers and small perennials. Faltz is the best landscape company in Anchorage, Alaska.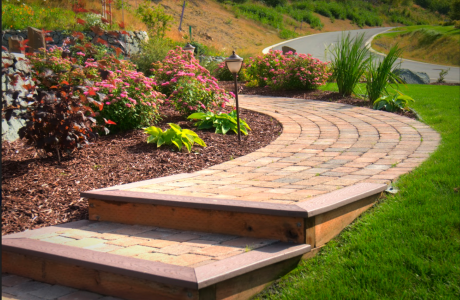 Faltz Landscaping and Nursery has been the premier option for residents of Alaska and here are some of our recommendations for the trees and shrubs with the best look and feel.
Evergreen Shrubs
Evergreen shrubs delight gardeners with their unusual textures and year round color.
Birds Nest Spruce
Named for its 'nest' appearance, the Birds Nest spruce grows slowly into a mound with a dip in the center. In the spring, it's bright green needles are an attractive addition to any yard.
Formanek Norway Spruce
This low growing variety of Norway Spruce is revered for its weeping, and creeping habit. If left unstaked, this evergreen will fall gracefully to the ground and spread outward like a mat.
Deciduous Shrubs
Amur Flame Maple
This deciduous shrub is a showstopper in the fall garden, it's one of the first to change and turns a beautiful orange-red. It grows between 10 to 15 feet tall, has an 8 to 10 foot spread and does best in full sun to partial shade.
Don't be deterred by its mature height, this hardy shrub can be kept small with proper pruning.
Weeping Pea Shrub
This unusual shrub is indeed a member of the pea family and in mid-spring has showy yellow flowers on pendulous branches. The flowers are followed by yellow pods that hold late into the season.
The weeping pea shrub is an excellent center-piece for the garden and, once established, can stand some drought and even a bit of neglect.
Evergreen Trees
Weeping Norway Spruce
For something completely different when it comes to landscaping design, consider the weeping Norway spruce. Its weeping habit and bright needles make it the focal point of any garden.
It does best in hardiness zones 2 to 8 in full sun or part shade. Another noteworthy weeping tree is its cousin, the weeping blue spruce.
Cork Bark Fir
This beautiful tree, which can grow to 40 feet tall and 30 feet wide, is grown for the texture of its bark, which does resemble cork, its pyramidal habit and its compact, blue-green needles. Grow in full sun to partial shade in hardiness zones 4 to 7.
Deciduous Trees

Crabapples
These showy trees are a beacon of spring here in Alaska. This versatile tree comes in all shapes, sizes and colors. With bright blossoms followed by small crabapples, you can't go wrong with one of these in your yard.
Paper Birch
This beautiful tree is a staple in our northern environment. With its bright white bark, the Paper birch makes a fantastic addition to the yard. This tree grows as tall as 75 feet in full sun to partial shade.
Be sure to check out the Weeping White Birch or Multi Stem Birch for a unique take on one of Alaska's favorite trees.
If you would like to learn more about trees and shrubs and what the Faltz Landscaping team has give us a call or visit us today.
Rock mulch or bark mulch? Which is best for you?
When doing any type of landscaping design, it is important to consider the materials you will be using. There are two materials that are commonly misused, which are landscaping rocks and landscaping mulch.
Understanding the differences between these two materials will greatly improve the quality of the landscape.

Bark Mulch
Bark mulch is often used by landscaping services because it is very cost effective. Bark mulch is also lightweight and easy to apply. It is commonly used as a weed barrier around homes and within gardens as well. It repels weeds and also holds moisture so you don't have to water plants as often.
Additionally, it is commonly used in gardens because it breaks down in soil rather quickly. As the bark mulch breaks down, it will also add organic matter to the soil.
There are several reasons why bark mulch may not be the most ideal for a particular landscaping design. The first reason is that it decomposes rather quickly, and although the decomposing material adds nutrients to the soil, it needs to be replaced every few years.
Another reason that it isn't always chosen for a particular design, is because the bark fades after exposure to sunlight, and the newly added bark mulch may be a different color. Last, being lightweight causes the bark mulch to blow away, and can get washed away during heavy downpours.
Rock Mulch
Landscaping services use rock mulch as a long-term type of landscape. Since it is heavier and doesn't decompose as quick as bark mulch, it will last longer in the area that it is placed. Rock mulch is generally more expensive, depending on the size and type of rock.
The size can range from rocks that are pea-sized, all the way up to golf ball sized. It is also used because there are many different colors of rock mulch. The variety of colors allows the landscaping design to have more options.
On the other hand, rock mulch is not ideal for certain types of landscapes as well. In areas where there is a lot of trees that will shed their leaves, it is not ideal. The leaves will cover the rocks and they will be difficult to remove.
Next, if a weed barrier isn't installed underneath the layer of rock mulch, weeds can quite easily grow. Last, rock mulch is difficult to move and rearrange once installed. This can make rearranging plants within a landscape pretty difficult.
Overall, landscaping rocks and landscaping mulch both have situations in which they are better for use. Consider your budget, location, surrounding environment, and types of plants within your landscape before deciding which to use.